Our Ministries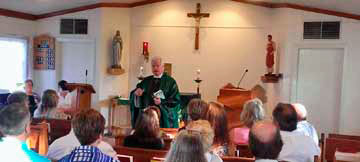 Well are you ready for Christmas? Are you finished your Christmas shopping? You realize Christmas is just six months away from today June 24th.

Can always tell it is six months away by today's feast of John the Baptist. John the Baptist will always show up on the church's liturgical calendar this time of the year ... six months before Christmas. And that is not by accident.

You see John the Baptist, who is viewed in the gospel as preparing the way of the Lord, comes on the scene about June 24th ... six months before December 25th. He comes around at the start of summer. In front of the altar is a depiction of a scene which is rich in Lenten symbolic meaning. The violet in the scene and throughout the sanctuary, is a somber color which symbolizes mourning, suffering, humility, regret and the willingness to do penance. The scene itself is arid, dry and barren depicting the desert where Jesus lived for 40 days in preparation for his crucifixion. The empty water jugs and containers convey the dryness and heat of the desert and the thirst which Jesus must have experienced. The dead branches and sticks connote the absence of life of any kind in the desert and the lack of food for Jesus to eat. The sand and stones mimic the floor of the dessert – which was probably mostly stone with some sand. The stones are a symbol of austerity and rigor, desolation and misery as well as severity and sadness. The devil used stones to tempt Jesus – "If you are the Son of God, command that these stones become loaves of bread" (Mt 4:3). The whip, crown of thorns, nails and hammer vividly convey the suffering which Jesus endured along his journey to Calvary and as he was nailed to the cross.

May our reflection on this scene help us understand the depth of the love Jesus has for each of us and his commandment to show that same love to each other.
Mission work of Fr. Antony Thundathil, MST.
Fr. Antony Thundathil, MST will be the celebrant at St. Joseph the Worker on Sunday, August 18.

The Missionary Society of St. Thomas the Apostle (MST) started in India in the year 1968 with a missionary mandate of Mission Ad Gentus of the Catholic Church; that is, to preach the gospel to those who have never ever heard of Jesus Christ and His message of salvation. Presently, MST has 370 priests working as the missionaries of the Universal Church in more than ten countries and it has more than 200 seminarians under various stages of formation to become missionaries of the Catholic Church. Most of our missionaries are preaching the gospel i

n Northern part of India, where the population is predominately Hindu and Muslim which is a minority. It is profoundly a challenging task to preach the good news among the non-Christians. It is through various humanitarian and charitable activities and ministries that we share the gospel of love and salvation. Working among the poor, the less fortunate, people with HIV-AIDS, running training and rehabilitation centers for the mentally and physically disabled, caring for the aged and the destitute boys and girls, running non-formal and formal centers of literacy, empowering the poor women with various self-financing programs, educating the street children and rag pickers are some of such apostolates. There are hundreds of orphaned children, boys and girls, old and young under our care and we share with them the joy of the Gospel by loving and caring the less privileged. There are successful stories as well as stories of persecution and martyrdom in the lives of our missionaries. As missionaries, the MST priests generally lead a simple life style and are adventurous, daring to undertake ministries and risky missions for the sake of Christ and his people. We seek your support to continue the missionary work in the Church. Your financial support is going to brighten the lives of many unprivileged, to lighten the burdens of the oppressed. We thank and appreciate your generous mind to help.

~ Fr. Antony Thundathil MST